My Marie Memories
Marie has been someone I've looked up to since the original Donny & Marie Show in the 1970s. I have always admired her & the entire Osmond Family for their high morals, values, & their strong sense of family. I also admire her for her wit & talent. If life was so that we could choose what we would be like, I'd choose to be just like her. Marie is one of the cofounders of the Children's Miracle Network (CMN). Because of her love for children, countless lives have been touched through CMN. I have had the privilege of seeing her in person on three occasions. The first time was in concert with her family in 1977. The next time was in 1987 (if memory serves me correctly), at the opening of the Children's Hospital at the Medical University of South Carolina (MUSC). She appeared on a local TV show called Midday. That is what the first set of photo's below are from. The gentleman in these photo's is Mike Hyatt, the host of Midday.
Several years ago we joined the Disney Vacation Club (DVC). I'd noticed from watching the CMN Broadcast in years past that it was usually telecast from Disneyland, or Walt Disney World. I found out when the dates of the 1998 broadcast would be, and we made our reservations at Old Key West, which is our DVC home resort, for that time. When the time finally came, we headed over to the Disney Institute where the broadcast was being taped. We thought we were early, but when we arrived we found out they were taping a couple of hours or so in advance. Marie was on stage when we got there, so we quietly found a seat. I had my Olive May Springtime doll with me. That is one of the dolls from her line that she sculpted herself. Shortly thereafter she walked off stage and almost immediately spotted the doll. She said, "Oh, you brought a doll! Do you want her signed?" I asked her if she had time & she said, "Real quick". But she said it very nicely! :o) I remember her saying when I watched her on QVC that she signs the dolls with a fine point Sharpie, but I didn't remember to bring one. She asked me if I had one, & I said that I didn't. She said, "You really need a fine point Sharpie." Would you believe that this really sweet man sitting next to me had one? It was a medium point though, but Marie said, "That's okay, she has a big head," (meaning the doll! For those that don't know, Marie signs the dolls underneath their hair on the back of the neck.) Maybe the man next to me was really an angel. . .ya never know! :o) After she signed Olive May, my husband Craig snapped our picture, which is the one you see below. I thanked her, she said you are very welcome and then she had to move on.
The next day is when our son Benji got his picture taken with Marie. It's the one below mine, but I'm sure you probably figured that out! While she was sitting in the audience, probably about halfway back, Benji and Craig went over to her and Benji asked her for her autograph. She signed his autograph book and then Craig took their picture. Craig said she was really sweet to them.
Something really neat happened a little bit later. We were sitting in the second row, & I don't think there was anyone in front of us at the time. Someone from the stage crew asked if she could borrow Benji for a few minutes. Shortly we realized that it was because they needed someone to sit with Robin Roberts for background shots, while Marie sang the song Hero! She does a beautiful job with that song I might add! Anyway, my little boy had his television debut with Marie Osmond! Isn't that neat? :o) Anyway, if anyone has it on tape from Sunday, May 31, the little boy seated in the background with Robin Roberts while Marie sings, "Hero", is Benji! As if that wasn't enough -- the characters came to sit in the audience with the children towards the end of the telethon, & they put Benji on the front row next to Mickey Mouse! :o) Just a couple of seats down from Benji were a couple of Marie's children. They are all so cute! I talked to one of them for a minute in between tapings. One of the ladies that is on the E-mail Osmond Listserv was kind enough to make a copy of her tape for me with Benji on it. Thank You Carol! She did not have the part close to the end when it showed children in the audience with the characters. So, if there is anyone out there who taped that and wouldn't mind making a copy, that would be terrific. We would of course cover the expenses of shipping & the tape, etc. Between takes I was able to go up to Marie & talk for a minute or two. She was very sweet and she gave me a hug.

Marie loves bunnies, so that is why they are here. They are for her!
Marie,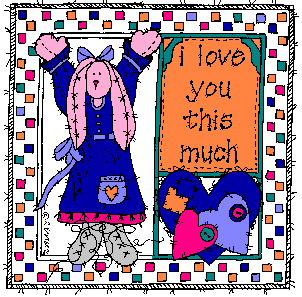 Thank you for being you and for all you have given.
Love, Tracie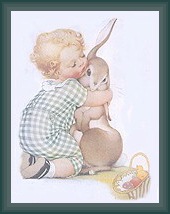 Here are a couple of photos of my Marie Osmond Collector Dolls. I have more than this though! I will have to get more photos added.
This is an older photo of how I used to have some of my dolls on my dresser. In the back are Marie & Donny 20th Anniversary Dolls. From left to right are Rosie & Rags Miracle Children, Olive May Springtime (she is the one Marie signed) holding a Christmas Greeting Card Doll & on the end is Adora Belle.
This is my current kitchen display! In the center of the top shelf is Cherries Jubilee, & on either side of her are Huggs & Kissy - We Love Red, White & Blue. The second shelf starts the Fun Fruit Series beginning with Apple Annie on the left & Sherry Cherry on the right. And on the bottom shelf is Stacey Strawberry on the left & Lizzy Lemon & the right.

Links Of Interest
Doll Stuff
Marie Doll Friends has a great links page,
so instead of duplicating it,
I'll just supply a link to that!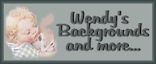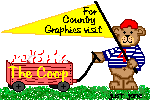 This page was last fiddled with on December 5, 2005
You are since September 2, 1998